Biographies
Chloe Lorback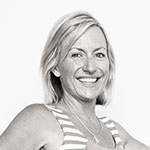 Chloe started Fit to Deliver in 2003 after studying pilates in the UK. She has always been passionate about Women's health and especially interested in exercise during pregnancy and the post natal period, so she combined this with her Pilates knowledge and Fit to Deliver was born!
Chloe graduated (with Honours) from Melbourne University in 1997 and completed her Masters in Women's Health in 2010. Chloe lectures to the Melbourne University 4th year physio's and also presents lectures to post grad/ Masters students at Melbourne University. She lectures to personal trainers about exercise in pregnancy too.
Chloe also loves the interaction with new mums and newborn babies at St Vincent's Private Hospital in Melbourne, where she provides individual consultations to girls on the post-natal ward, and is involved in the antenatal eduction program.


Chloe has three young boys and enjoys the balance of being able to teach Pilates, do physio and be a mum. She hopes to help you discover that exercise is enjoyable and fun!
Sarah Rudd
This is Sarah's seventh year as a practicing Physiotherapist. Aside from exercising with gorgeous Fit to Deliver girls, Sarah currently runs ante-natal classes and consults on a post-natal ward.
Inspired by a growing passion for women's well being, she has completed her Master's Degree in Pelvic Floor and Women's Health Physiotherapy.
When not playing on the reformer beds, Sarah enjoys eating, cooking, reading, hiking, refining her yoga skills, watching film and live theatre and laughing with friends and family.
Tracy Fisher
Tracy graduated in the United Kingdom and has over 20 years experience. She completed her post graduate diploma in musculoskeletal physiotherapy at Melbourne University in 1996.
Tracy loves working with women, and has worked in the area of women's health for the last fourteen years, with special interest in musculoskeletal issues in pregnancy, exercise in pregnancy and childbirth education.
Tracy also lectures at Melbourne University to the undergraduate and postgraduate physiotherapy students on childbirth education.
Tracy has two beautiful daughters who have always come along to classes in school holidays and are now enjoying the benefits of Pilates themselves in the Teenager's class. Tracy feels it is such a privilege to be able to work with women both pre and post natally and then to meet their beautiful babies!